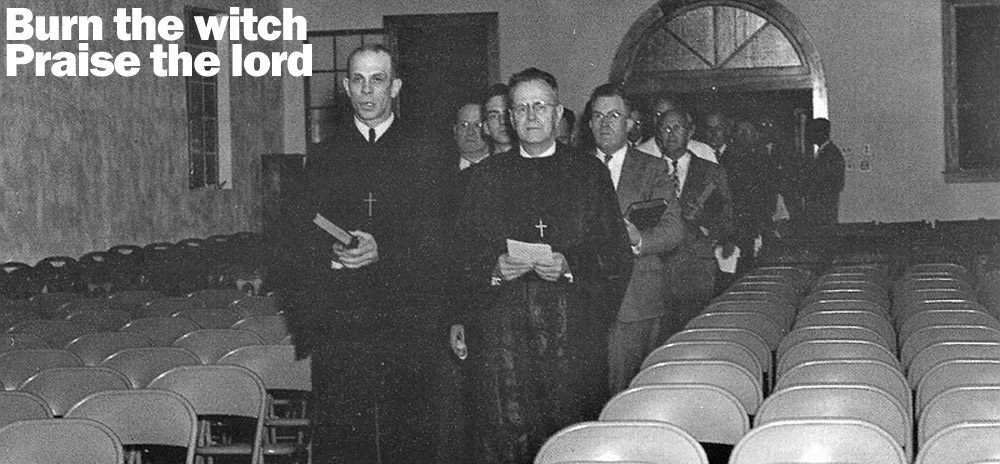 I know I've kinda sorta touched on the role religion has in the ongoing trans genocide in other rants, but let's be real: the war against trans people is a holy war, one hundred percent, and responsibility for it lays exclusively at the feet of religion.
I say "religion," but what I mean is Christians. Or, more specifically, Christian Nationalists.
These are people not far removed from their witch-burning ancestors who unironically proclaim their compassion for queer and trans people while working like holy little beavers to chew, erode, and dam up our civil rights so they can't flow freely. Their ultimate target, if they get their way, is to eliminate our right – and ability – to exist.
Christian Nationalists labor under the empty-headed delusion that America is a Christian country. (Spoiler alert: the rich white men who established the US government went to great lengths to make it clear that America was not and would never become a Christian country. Or a country ruled by any church. So there.)
They advocate for Christian influence or control everywhere. Government, schools, private companies, hot dog stands, Birkenstock stores, everywhere. They lisp through their beaver teeth that every place and everyone should be forced to abide by Christian "rules." Rules they couldn't even begin to adequately explain or justify if their lives depended on it.
I say "forced" because there's no other way to impose your rules on people who have no desire to join your three-legged race back to the dark ages.
When things began to go rapidly downhill for trans folks, I blamed politicians. And to be sure, only politicians can cause the legislative chaos and disorder we've witnessed over the past year and a half.
But the politician's actions are motivated by religious belief. And not always their own personal religious beliefs. Often, they are bowing to the religious beliefs of a minority of holier-than-thou loudmouths who may or may not even vote.
That can happen because politicians are cowards and shameless scoundrels, easily bought with shiny trinkets and motivated by fear. They fear the loss of power. They're afraid the beavers are going to chew through their dams, and they'll do anything to keep that from happening.
So they throw queer and trans people (and people of color and immigrants and women and…) to the wolves. Because they are, again, cowards.
Did I mention that politicians, all politicians, are cowards? Okay, good.
But the religious queer-haters' skirts have been lifted, and we can see them beavering around in their beaver dams in a Mother Jones article that exposed the link between South Dakota Republican state representative (and wannabe fascist dictator) Fred Deutsch and representatives of a network of anti-trans activists and organizations.
Mother Jones lifted that skirt by uncovering a big pile of beaver-mail correspondence. Chewy! You can probably assume what's in those emails, and you'd be right, but seeing them removes all doubt.
Ignorant people have always hated queer people, but they have never been smart enough to effectively organize against us in the past. It's the political leaders of the ignorant who (just barely) possess the limited brainpower required to launch obsessive and relentless hate campaigns.
And they shouldn't really be called "leaders" since they are allowing themselves to be led around the garden by wriggly little colonies of brown-shirted hate-beavers.
What I really want to know is why are Christians so mad all the time? They're mad at everything that isn't white, straight, and American. It seems exhausting and a waste of one's life.
Or, you know, more of a waste than the usual praying and pointing up of palms. Why do they do that, by the way, turn their palms up like that while they close their eyes and rock back and forth with that dry-crying, constipated look on their faces?
Are they blocking things Jesus is dropping onto them? Catching precious babies dropped by storks? Raising the roof, like at a minor league hockey game? Or are they just playing a twisted game of follow the leader?
I'll never understand beavers.
Oh, and for people who say that we shouldn't complain unless we have a solution, I have a solution: term limits. Very short term limits. Like you get one term, and then you get the hell out. Go find something respectable to do.
Do that, and the beavers will starve, and the sun will shine again for everyone, not just the stick-chewers and bible sniffers. But we won't do that because…you know what I'm going to say, don't you? It won't happen because politicians would have to make that change!
So round and round we go.
And just a reminder, I'm not exaggerating. Here's an update of trans activist Erin Reed's "Anti-Trans Legislative Risk Assessment Map." You should read about how she compiles it; it's legit.